Jaybird topic: Audio For Athletes
Wireless Headphones Are Not All the Same.
Adventure-driven folks like you—like us— know that often times what's made for everyone else doesn't cut it in our world.
We understand that achieving great audio in all conditions requires a level of fit, function, and durability that blows well beyond the usual. The demands of nature aren't average, and we aren't average users, and that means any old set of headphone won't do the trick. We need equipment designed for our world.
Since 2006 we've pioneered audio technology for athletes, creating the first wireless headphones built to handle the demands of your sport while you seek the edges of your ability.
Choose Your Sound
The best earbuds are buds that adapt to your environment. We give you total control to listen out when you need to or tune in when you want to with ANC and Surroundsense. 
Whether on the trail or on the road, keeping safe is always top priority. Surroundsense mode provides transparency between your earbuds and the environment around you by amplifying peripheral noise so you can hear traffic, wildlife, and other trail users. Toggle it on with an easy double-tap on your buds, and tune into the world around you without missing a beat.
Sometimes we need to cut distractions at the gym or block out the chaos on long travel days. Active Noise Cancellation shields you from the outside world and lets you focus in when you want minimal disturbance. Activate ANC mode with a double-tap on your buds and zone into your workouts to blow past goals, or have a Zen moment amidst the chaos around you.
When you need to tune into a call but don't want to sacrifice trail time, you'll appreciate the two beamforming internal microphones that allow you to communicate with ease. Make phone calls, use voice-assist, or sit back for a quick trailside video conference all from the convenience of your Vista 2.
Explore the ANC and Surroundsense experience.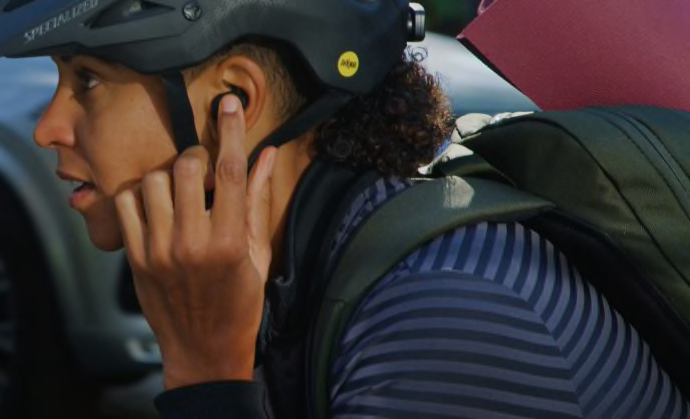 CHOOSE WHAT YOU HEAR
Hear what you need to, when you need to. SurroundSense technology allows you to tune into your surroundings on the trail or road, so you're always safe and aware of traffic and wildlife. When it's time to focus, double-tap to ANC and cut out background noise at the gym, office, or airport.
Personalization/EQ settings
Everyone's ears are different, inside, and out, so we've never understood the one-size-fits-all approach to headphones. We think the best audio experiences should be fully customizable, so you can tune them to your ears only. 
Using the Jaybird App, all Jaybird headphones offer a completely customizable EQ to create the sound that you deserve. Like to switch it up from hip hop to audio books? No problem. Create your own presets that elevate bass for pumping up your adventure, or tune into crystal clear highs for pristine vocals when you're listening in to your favorite podcast. No matter how you prefer your sound, you have total control. 
But the App does so much more than tweak levels — dive into settings and customize button controls to make your headphones do everything you need them to with a tap of a button. Keep an eye on battery life so you know when its time to recharge. Track down your missing buds or case with Find My Buds. Or get support when things aren't working quite right. Control is in the palm of your hand.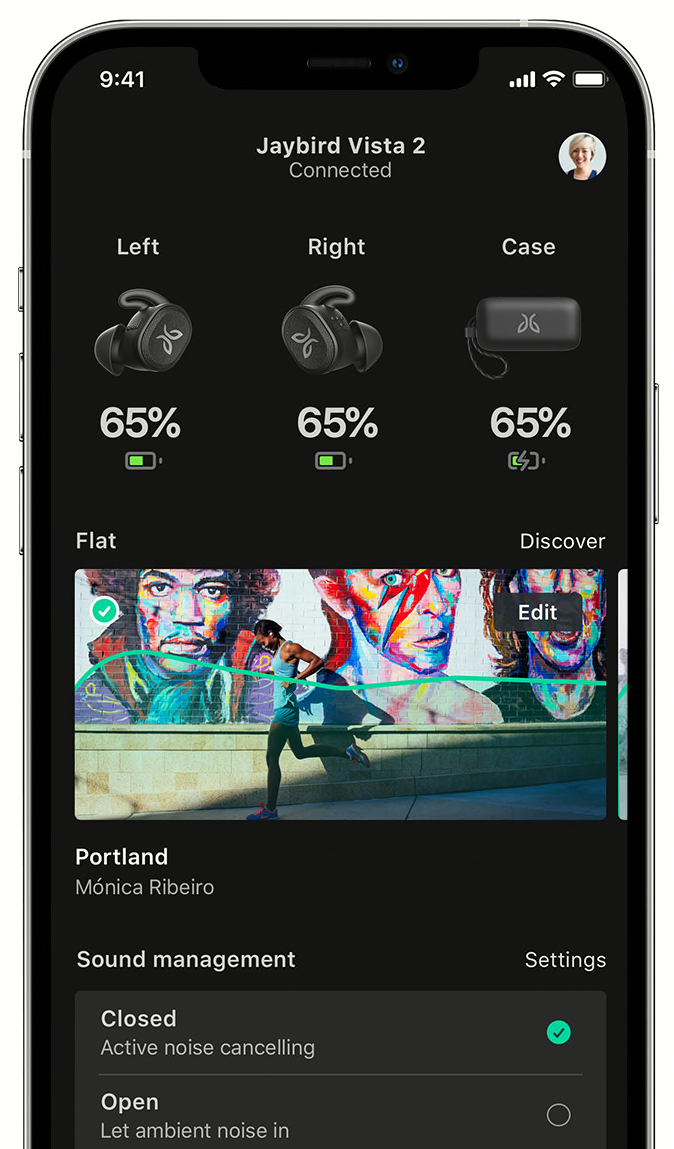 High-performance wireless audio for athletes.
Vista 2

Everything you want from your bluetooth earbuds. Active Noise Cancellation for focus. SurroundSense for spatial awareness and safety. Earthproof durability for demanding pursuits. When adventure calls, Vista 2 is ready to answer.

Shop

Vista

The cutting-edge Vista pairs true wireless technology with customizable premium sound to create the ultimate active audio experience.

Shop

Tarah

The Tarah wireless sport earbuds opens the door to audio freedom and inspires your daily session with premium sound quality at a great value.

Shop